21st - 23rd June 2019
Cheltenham Town Hall, UK
Exclusive Beginner Offer at Cheltenham International Tango Festival
As part of the Cheltenham International Tango Festival, we are offering an exclusive deal for complete beginners. If you have ever been tempted to have a go at this wonderful dance, you should definitely be considering this exciting package.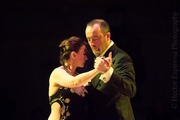 The package includes two 70 minute workshops. Part one is "BT-T0" on Saturday 22nd June at 11:30 and part two is "BT-T1" on Sunday 23rd June at 11:30.
The BEGIN package also includes an opportunity to dance in our Saturday and Sunday tango cafés.
No prior dance experience is required and you will not be expected to do any lifting as the lessons are in social Argentine tango not show tango. You do not need to book with a partner, but please note that we will be trying to keep numbers of leaders and followers equal. (Men are usually the leaders and women the followers).
To book the package, go to our Booking page and select package BEGIN Tango Beginner Experience.